Welcome to the Pick Store
The paypal shopping cart should open in a new secure window where you can edit/add quantities, update totals, remove items and continue shopping which brings you back to this page.
When clicking on continue shopping on the paypal page some browsers may warn that this web page wants to close the paypal tab after redirect.
It is fine to close the paypal page as your cart will hold and update any additional selections you make before checkout.
Postage and packaging is simple, efficient and extremely cost effective to anywhere in the world. You pay for picks without costly packaging. Multiple items have a single postage cost at checkout of 0.41 GBP (the old price of a first class stamp) to any international address.
The best way of growing a business is word of mouth and to that end it is my hope that my customers can help share this resourse with other guitarists. Please feel free to use the secure share button.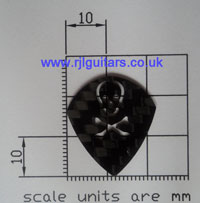 The Jazz Jolly Roger. This is the first ever pick manufactured to redefine how a pick should feel and sound.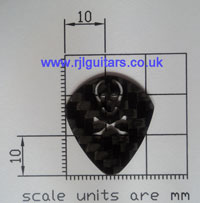 The Jazz Jolly Roger Round Tip
These have a darker tone with more low end punch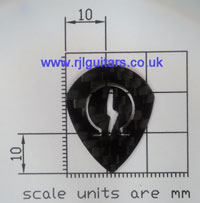 The Jazz Omega.
This controlable hinge design allows a thicker picks release angle and can also be as solid as you like. especially good for players that grip more to the back of the pick with the added bonus of being able to clip to your strings at the headstock.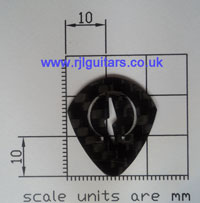 The Jazz Omega Round Tip
. Again the round tips give a darker fuller tone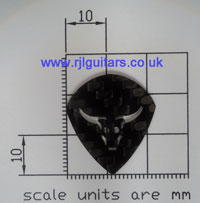 The Jazz Longhorn.
more off centre grip to help stop rotation when playing and feels a fraction more solid than Jazz but without the crossbones ''sweet spot''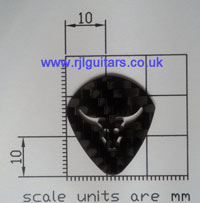 The Jazz Longhorn Round Tip
Very solid Pick with the darker solid tone of the round tip.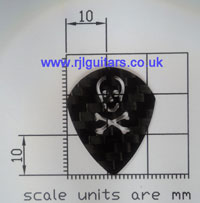 The Jazz+ Jolly Roger
These are 2.0mm longer than Jazz and will wear to a similar profile to the Jazz round tips. These are a good intermediate size when moving from standard or XL sized pick to the smaller, more controlable Jazz sizes.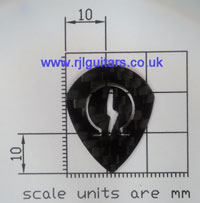 The Jazz+ Omega
. Just a little stiffer feel as there is more material in front of the hinge but flex and release angle control grows with wear. Very easily rounded/profiled with a file. One other interesting fact is that the attack from my picks stays the same because there is always the same fibrous edge material being used.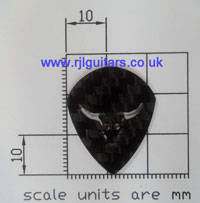 The Jazz+ Longhorn
. Solid mid sized pick with the same puretone as all the rest in the range.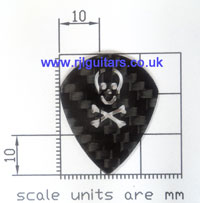 The Jazz XL Jolly Roger
. very similar in size to the standard pick.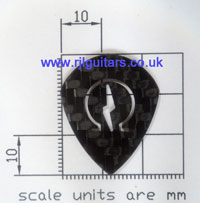 Jazz XL Omega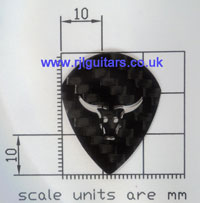 The Jazz XL Longhorn
. Beefy and solid feeling pick.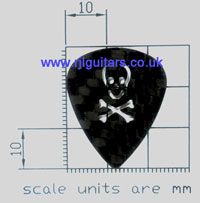 The Standard Jolly Roger Pointed Tip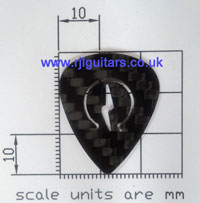 The Standard Omega Pointed Tip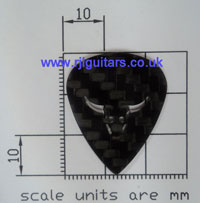 The Standard Longhorn Pointed Tip
The following picks are also available from the custom picks range. Hand tapered and beveled to produce a thick pick to redefine thick pick excellence. Extremely hard with the perfect amount of attack and produce undampened tone with a silky smooth string release