Exclusive manufacturer of real woven carbon fibre Pro picks provide the ultimate in tone with CNC precision machined internal features cut through them to contribute to both grip and control.
Throughout the range you will find a pick to suit most styles of player and I'm always keen to add to the range should you not be able to find one to suit.
My picks can be used with varying amounts of pressure between your thumb and finger to not only allow you to control how the picks flex but will allow you to control by how much.
A very unusual and expensive material to use for pick manufacture but the tone and feel of these are giving guitarists a real choice with exceptional feel and tone.
RJL PureTone carbon fibre picks are manufactured using only the best materials.
No glass fibre filler between the layers and only using the highest quality raw materials results in what I now call the pure tone range
All for one reason, to get maximum tone.
Not for beginers, these are Pro Picks. They have found themselves in some of the most tone demanding of players homes and studios throughout the world.
They are hard and very compressed resulting in a material that lends itself to producing the ultimate pick with some very special properties.
When they are ''played in'' they glide off your strings. Being real carbon fibre, expect a little residue to be picked up on your thumb and first finger till the edges have worn in or a little/lot more if your using really heavy strings and going for it.
Ever wondered why violin and other bow players use chalk on their bows? or why snooker players use it on their tips?
Instant attack, grip and bite but with a silky smooth release from the string make this material extremely useable for guitarists and other stringed instruments.
My returning customers consider this to be a ''non-issue''considering the tonal advantage and feel of using my carbon fibre picks. Woven carbon fibre has a grain structure that replicates some of the best natural material characteristics of some of the worlds best known pick production materials.
There is nothing out there I have found that can generate as wide a frequency response from a string as well as improving control and adding grip than RJL woven carbon fibre picks  '('Fiber'' if you live across the pond) puretone range.
RJL picks will allow Mr Turtle to continue to keep his shell on.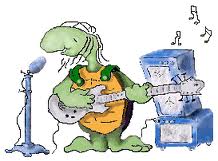 GuitarTrump Review  www.guitartrump.com  Guitartrump is an excellent and very well written site containing very intersting articles which cover a huge amount of guitar related topics with exclusive interviews and making it a must visit site for all players.
The best way of growing a business is word of mouth and to that end it is my hope that my customers can help share this resourse with other guitarists
When it comes down to it, I'm serious about having a nice sense of control and grip in a guitar pick. I have naturally sweaty hands (…yeah…) and picks that suit my needs aren't always easy to come by. That's why I've made the conscious decision to find and use any and every pick I can get my hands on as I search for the "perfect pick".
Recently I received a cool set from a new company based in the UK called RJL Guitars. These picks are very unique in their own right…
RJL Guitars Pick Review on Lone Phantom.  http://www.lonephantom.com
below are some screenshots from this excellent and way down under website for guitarists.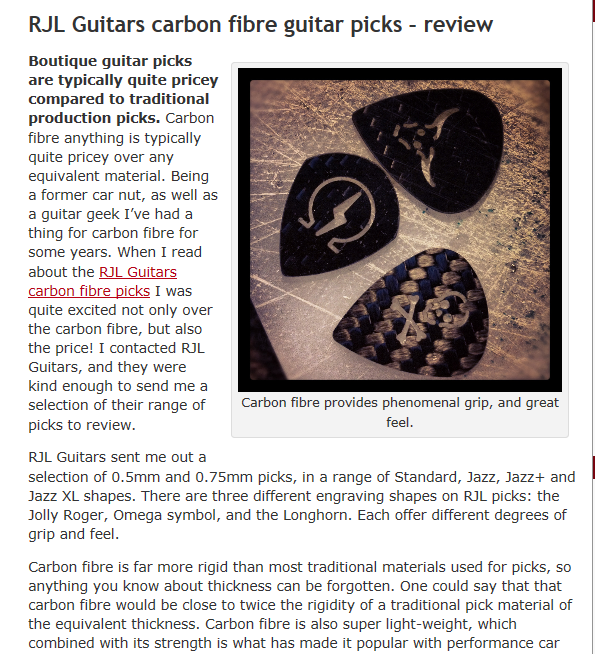 Rox Reviews RJL Guitar picks competition winner Sam's youtube RJL pick comparison video
Hear the difference even on youtube